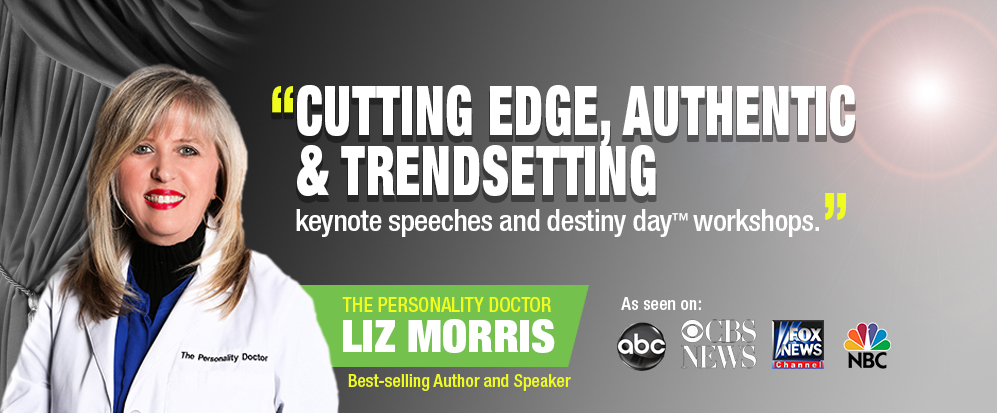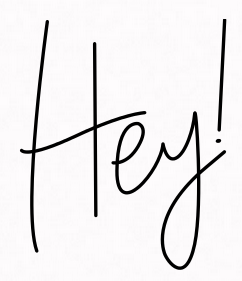 I'm Liz . . .
the Personality Doctor , Best-Selling Author and Developer of the Destiny Identifier Profile™, Destiny Day Workshop™, and dedicated to helping you become the person you most want to be.
My specialty . . . Teens and Millennials!
What PEOPLE/CLIENTS are saying:
"Liz Morris a.k.a. "The Personality Doctor" is the most engaging and fascinating leader I've heard speak in a long time. She is sure to become one of the most sought-after keynote speakers on the planet! Liz is well-regarded as a top personality, destiny identifier, and people expert. Her powerful presentations are energizing, stimulating and teach some of the most timely topics for my business and personal life that I have ever heard."
"Liz made a huge impact on our students at Prestonwood Christian Academy. Our student leadership class is voluntary and not one young person stopped attending her Destiny Day workshop. In their feedback they used words like, awesome, real, timely, eye-opening, and committed to helping us find our life calling. She spoke with us not at us. We will definitely have her back to teach and lead our students again."
"A sancified can of RED BULL"




5 Profound Reasons

Schools, Women's Organzation's, Ministries, Businesses and Non-Profits

call on Liz Morris to engage

1. She helps manifest and ignite your personal authority.
You just need one "AHA" moment to shift your entire life into strategic, intentional purpose. Once you develop a personal authority profile, you begin to expand your impact and reach your designated destiny.
She trains you on how to pause, reflect, think and launch, so you can live an extraordinary life full of authenticity, character, leadership and faith.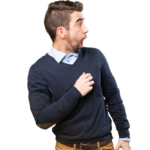 She helps you stop neglecting the most important stakeholder of all: yourself.
Did you know that less than 20% of leaders have a strong sense of their own individual purpose & authority?
"I heard Liz speak at a conference and have attended her Destiny Day Workshop. I cannot get enough. She was instrumental in helping me put my career, faith, and life in perspective at a point when I really felt lost and confused. Liz has a way of teaching leadership principles that make you want to have the same relentless pursuit and passion about successful living as she does." Lisa D.
2. She uncovers your gifts so you can move against unauthorized opinions.
Did you know that you cannot find your gift by attending high school or college? It isn't there. Instead, you bring it with you there. It's already inside you. Education cannot give you a gift; it can only help you refine it. It's your gift – not your education, not your job – that brings you before influential people. It's your gift that prospers you.
Destiny Day empowers you to find your gifts so you can walk in ultimate authority. You will learn how to shift your ambition to meaning.
#1 Destiny Secret – Trust in your inherent gifting . . .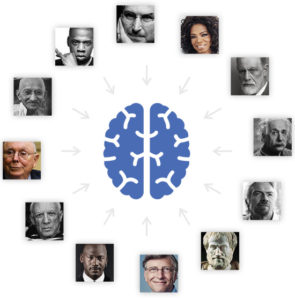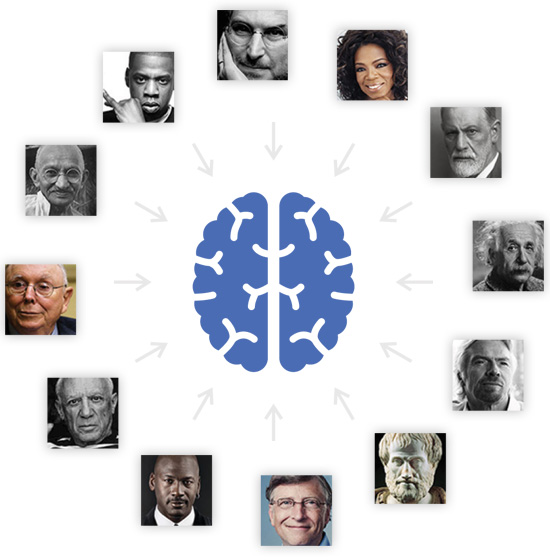 "Definitely some of the most informative advice about the character of our employees and our potential new hires we have ever heard. She is shaping the marketplace and culture in a significant way. We are doctors of medicine but she truly is "The Personality Doctor."
Dr.'s at Forney Wellness Center
3. She'll display your unique Destiny Identifiers™.
Your personality was designed for your authority. Everything about you is perfect for what you were created to do. Liz's Destiny Identifier assessment unveils the real you and teaches you how to be authenic. It allows you to manifest yourself because you were never created to get lost in a crowd!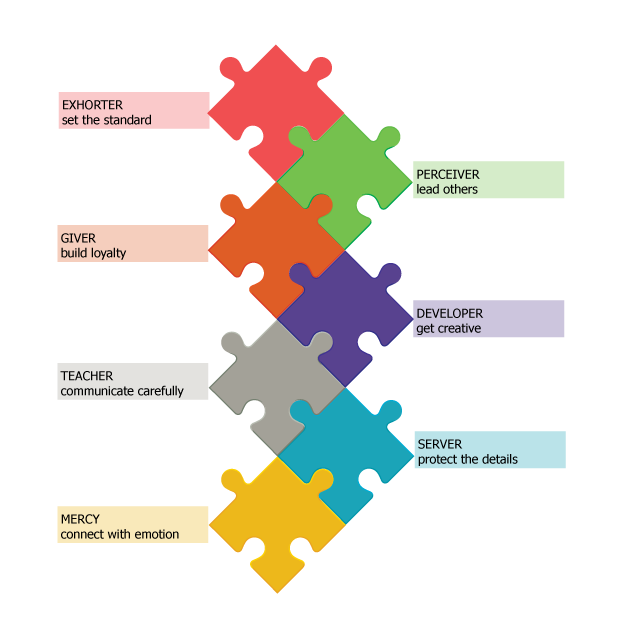 "I was privileged to hear Liz teach at Gateway Church and it literally changed my life forever! Her wisdom in taking both the spiritual and relational aspect of peoples lives and coupling that with leadership philosophies is astounding. I took her Destiny Identifier™ and learned more about myself than through any other assessment I have ever taken. I am serious, this has changed my life. I hope and pray that you get to hear her speak one day, because YOUR life will never be the same." Phoenix A.

4. She provides genuine keys to unlocking your potential.
Self-discovery is an emotional investment we all must make. It is essential for success and leadership. We have to assess why we do what we do and why we think like we do. You will learn how to move past negative emotions and stop bad thoughts from bothering you.
True freedom and change is not the result of your own willpower, but of something much greater. Liz feeds your faith with such incredible real life stories that you leave desperate to know more.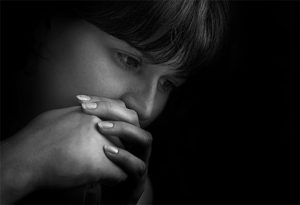 "I was fortunate enough to hear Liz speak and at the Christian Women's Connection. I walked out of that place realizing for the first time that I had never encountered life like she had. It made me want to seek for more and motivated me to apply certain principles. If you want to discover the all-powerful side of God, you MUST book Liz Morris at your conference today. Even you as the host, will be forever changed." Betty B.
5. She assists in reconciling our differences.
Because of her years of personality study and her variety of topics she has a way of relating to everyone no matter their background. From young to old, rich to poor, black to white, male or female, and from the churched or not, it doesn't matter who you are, she believes you should be valued.
Her goal is to reconcile all people and races so that every culture can flourish as intended, so you can bring fruitfulness to your frontline.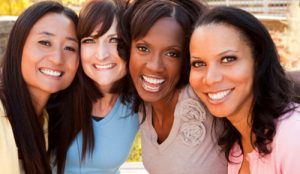 "I first heard Liz speak at the National Day of Prayer. I knew immediately I wanted her to be the main speaker at our next women's conference. She was one of the most captivating, authenic, passionate and dynamic female speakers I have ever heard. She is truly ordained for this hour." Bobi A.
"Ok Pastors, this is one lady you need to have come and address your congregation. Whether its Sunday morning or a church event, she will bring in God's presence and reveal his character. She is intelligient and annointed for such a time as this. If you want someone to reach Millennials, look no further. Don't wait, get a hold of Liz Morris today. Your whole church will thank you." Pastor Bob F.
Wisdom is Your Key to Freedom
Without it you waste your entire life!


Positive Results Are Everything!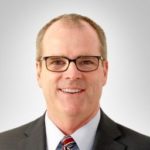 "Liz Morris is a 5-star speaker that every conference, retreat, or, seminar needs to invite as their keynote speaker. There are a lot of good speakers around but few that really stand out. Liz is one of them. Having a business background (CEO and Business Mastermind Advisor), coupled with her deep and authentic spiritual prowess, makes for a dynamic address. You could not take your eyes off her as she spoke on living out your eternal destiny in this day and age." Chuck C.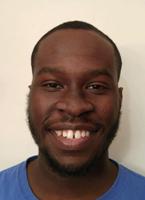 "Liz Morris is the OPRAH for my generation. The Destiny Day Workshop rocked my world. Her Destiny Identifier™ profile nailed me. It made me want to re-evaluate my life. Her questions were deep, thought-provoking and intriguing. Don't look any further for a speaker, do everything you can to get this incredible individual in front of my generation. You want real – here it is folks." Tenya T.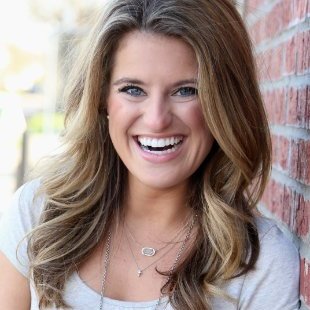 "The Destiny Day Workshop™ showed me things about myself that helped propel me forward in my career. Liz helped me understand my purpose, gave me direction on how to move forward with it, and provided complete clarity on what I am really passionate about. If you don't do anything else in life but attend a Destiny Day workshop, you will be miles ahead of the rest of people." Nicole S.
"Liz was the main speaker at a conference I attended and boy was it a GIFT.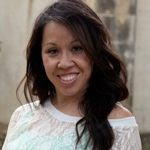 Never have I heard such a mesmerizing speech, including all the TED talks I have viewed. Her view on purpose, destiny, worldview and the kingdom made me rethink my own life's position. I am amazed at her insight and wish the whole world could hear her message." Ann C.
This is YOUR life, please don't waste it.

As Seen on: